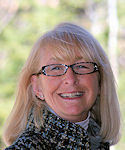 If you're buying real estate here, you probably love New Hampshire and the White Mountains like I do. You either grew up here and came to realize there are few better places to live. Or, you vacationed in North Conway and the White Mountains and always wished you could live here. I'm here to tell you "You can!", and I'll help you to accomplish that goal.
My husband Bill and I moved here in 2000. It was one of the best decisions of our lives. We live in the same beautiful setting that was once reserved for our vacations. With 3 dogs, plenty of land, and a cozy home, we love our property. We know that in most cases, real estate means home.
I like to focus my attention where I can make a difference in peoples' lives. When you're ready to buy a home, you need someone knowledgeable on your side. With my 30 years experience in banking, mortgages and real estate, I know how to help you avoid the obstacles and pitfalls before you buy or sell a home.
EXPERIENCE
1979 - 1982 Real Estate Broker, member of the Plymouth County Board of Realtors®, specializing in condo sales
1985 - 1987 Assistant Branch Manage for Bridgewater Credit Union
1987 - 1992 Chase Manhatten Mortgage Corporation - Relationship Specialist for top loan officer in Boston area - assisting with processing jumbo mortgages
1999 - 2000 Property Management for 220 condo units at Village Properties, Inc.
2000 - 2006 Home Mortgage Consultant for Wells Fargo Home Mortgage
2006 - 2011 Woodlands Credit Union
EDUCATION
Eastern Nazarene College - Bachelor of Science
Stonehill College - Certificate in Paralegal Studies
COMMUNITY
Member of the finance committee, White Mountain Waldorf School
Treasurer of the Mount Washington Valley Community Tennis Association
Volunteer in the North Conway "Making Strides For Cancer" annual walk
Testimonials
" Wonderful. Sold 1 week after listing."
—Melinda Morlé, Walpole, MA
"Bill & Sharon Lydon were outstanding Realtors, who we would highly recommend. They were knowledgeable, attentive to details, & stayed in touch throughout the process."
—Dave & Mary Rennie, Center Conway, NH
"Proactive, articulate & thorough. Good communication skills."
—Dan & Linda Casey, Melrose, MA
"Excellent. Best Sales Associate I have ever worked with."
—David Babineau, Billerica, MA
"Bill and Sharon were great! Went out of their way to be so nice and extremely helpful."
—Jeff Moon, Conway, NH
"So very grateful we had the pleasure of working with such a great team as Bill and Sharon. I was intrigued by their enthusiasm. Bill's reassurance got me through that last couple of weeks of unfortunate surprises. They aren't only sales associates, but friends. Many thanks to both of them!
—Elaine Chase, Conway, NH