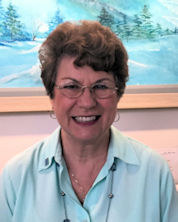 REALTOR® | Coldwell Banker Wright Realty
Coldwell Banker Wright Realty
486 White Mountain Highway
Conway, NH 03818
Email Phone: (603) 447-2117 Toll Free: (800) 447-2120 Fax: (888) 531-2689

About Lorraine
I've been in real estate sales for over 30 years, and I've loved selling homes and properties since the first day I received my real estate license. I enjoy guiding my clients through all the steps they need to take to ensure a smooth closing. I've worked with generations of the same families in both the buying and selling process. I became a Realtor® in 1986, and earned my Broker's license in 1996. I specialize in Jackson, Bartlett, North Conway and Conway real estate.
I've been married to Karl Seibel since 1967. Karl is also a Realtor® here at Coldwell Banker Wright Realty. We have two wonderful grown children, and two just as wonderful grandchildren. We moved to the Mount Washington Valley in 1978, because this is a fantastic environment, and the perfect place to bring up children.

Accomplishments
President, White Mountain Board of Realtors® in 2007
Realtor of the Year, White Mountain Board of Realtors® in 2008
Professional Development Committee, New Hampshire Association of Realtors®
Accredited Buyer Representative (ABR)
White Mountain Board of Realtors® Education Committee/Orientation for New Members for many years.
Testimonials
"Lorraine is a true professional Realtor. A pleasure to work with. She never gives up. Very optimistic personality."
Linda & Eric Blough, Dover, NH
Very professional & knowledgable & reachable, #1!"
Toni Copsey, Ashland, NH
"It was a delight working with Lorraine, she always had our best interests in mind."
Cathy Lemoi, West Warwick, RI
"Lorraine Siebel was wonderful in every step of this process!"
Rae Streeter, So. Tamworth, NH
"Sales Associate was Professional, Knowledgeable & a Pleasure to Work with."
M. Westfal, So. New York, NY
"Lorraine Siebel was always there to help us."
Lorraine Beaudoin, Tiverton, RI
"We have used Lorraine Siebel for our last three home purchases and the sale of 2 homes, and we would highly recommend her."
Carrie & Corey Birkbeck, Conway, NH
"She was wonderful to our family. Lorraine was the best."
Sharon Pierce, New Hampshire
"I connected with Lorraine Seibel immediately and totally enjoyed working with her. She knew just what was best for me. The process just went along so smoothly. I am excited and happy!"
Mary McIntosh, Boston, MA
"Lorraine and Karl couldn't have done a better job. The whole team made us feel at home immediately, not a bump in the road they couldn't solve. We passed on a property and within minutes they made another appointment that day for another listing, and that was the property we bought. We love it. Company gets an A+"
Dorothy & James Fahey, Bellingham, MA
"Lorraine was great! Helped me with the details of my first home purchase."
Charlie Holmes, Boston, MA
"Lorraine has sold our home and we bought it back with her help. We had a wonderful experience. Lorraine was very professional for our needs."
Mr. & Mrs. R. Boisvert, North Conway, NH
"Lorraine was fantastic. I live in Massachusetts and she could not have been more helpful with orchestrating the whole process leading up to the sale. I could not have done it without her."
Cathryn, Boxford, MA

"We were well-informed as each step in the sale of our property progressed. Lorraine handled the sale in a courteous and professional manner--always available to answer our questions."
Patricia Parrott, Peabody, MA
"Absolutely would recommend Lorraine. She was great!!!."
Linda Merikanto, Stoneham, MA
"Lorraine was the consumate professional. Always courteous, smiling, and helpful."
Eric Blough, Dover, NH
"Lorraine was amazing to work with! A+++"
Jillian Berger, Tamworth, NH
"We had the absolute best experience with Lorraine and appreciated all her hard work to help us purchase our first home. She is professional, easy and fun to work with. We always felt that she gave us honest advice and that we could trust her.
Lorraine understands what it takes to buy and sell in the Mount Washington Valley. She is someone who we would definitely use again. In short, she went above and beyond to help us and we would recommend her to anyone!"
Rick & Kacy Tillotson, Glen, NH
"You saved us many trips up to New Hampshire, by taking your own personal time to let appraisers, carpet cleaners, carpenters, and repair men in for us, as well as delivering the keys to the new homeowners. With all of the obstacles that we continually faced during the condo sale, you remained persistant, upbeat, and made sure that everything that was being done was in our best interest. Thanks again for everything!"
Paula DeRuosi, Cranston, RI